Lawn Care Services in Westwood
Care for your lawn in Westwood has never been easier with us around. We use quality products and professionally trained lawn care technicians to make sure your yard looks as good as it can. Our lawn care company provides the utmost care for your property. We treat your lawn like it is our own with a satisfaction guarantee in case we didn't do the job we should.
Harvest Lawn Care also offers free service calls in between the regular lawn services in case something pops up or we missed something. Our lawn care package includes everything you may need for the lawn of your dreams: 
An inspection of your lawn to figure out a custom plan and areas to focus on. 
6 treatments for grass spaced 4-6 weeks apart to provide the most effective care for a vibrant lawn. 
Insecticide and fungicide control in order to protect from pests. 
Available add-ons can include aeration and seeding, soil testing, and grub control.
A Lawn Care Company that Cares 
If you're looking for lawn care professionals that care about the results, call or schedule an appointment with us today. We don't just care about getting the money and moving on to the next house, we want to make sure you're happy with the lawn care you are receiving before we leave. Our professional employees will make sure the lawn of your dreams appears before your eyes.
Image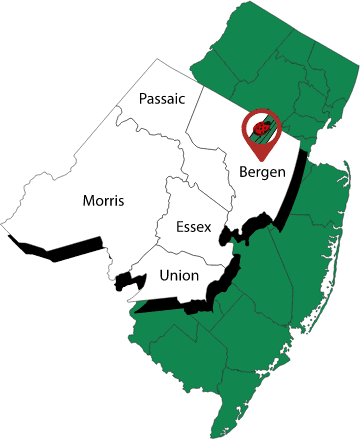 Tree and Shrub Care in Westwood
Our team of experts specializes in providing complete tree care services, including specific care for each species, fertilization through targeted root injections, and protection from pests and diseases. Our 6-step program is custom-tailored to the plants growing on your lawn, ensuring that every aspect of your ornamentals' health is looked after.
Our 6-step program includes the following:
Spring dormant oil application
Spring root zone fertilization
Spring foliage protection
Early summer foliage protection
Summer foliage protection
Late-season foliage protection
Additional services are available
With our International Society of Arboriculture-Certified Arborists and New Jersey Licensed Tree Experts, you can trust that your trees and shrubs are in good hands. Contact us today to learn how we can help you care for your ornamentals.
Flea and Tick Control in Westwood
Are fleas and ticks taking over your backyard in Westwood? Don't let these pesky insects ruin your family's fun time! Our flea and tick control service in Westwood is here to help you get rid of these unwelcome guests for good. Here's what we offer:
Free Inspection: Our licensed and certified technicians will walk your property with you to identify areas where fleas and ticks are most prevalent.
Highly-Effective Treatments: We use top-of-the-line products to get rid of existing pests and prevent future infestations.
Ongoing Prevention: Our 5-step flea and tick treatment program ensures your protection doesn't wear off, with re-sprays throughout the season.
Family and Pet-Friendly: Rest assured that our products are safe for your loved ones.
Trust us to provide the best flea and tick control in Westwood. Say goodbye to pesky infestations and enjoy your yard worry-free. Contact us today for a free consultation.