Lawn Care in Paramus
Taking care of your lawn can be overwhelming. If you're struggling with brown spots, overgrown weeds, or any other problems with your grass, trust Harvest Lawn Care. We've spent decades perfecting our lawn care in Paramus, so we can give you the best treatment possible without any hassle. You'll get the results you want in no time!
Our lawn care service includes:
Fertilizer applications
Weed control
Grub control
Insect control
Disease control
Lawn aeration and overseeding
Soil testing and pH balancing
Trust the Local Lawn Care Experts
With over 30 years of experience, we've developed a lawn care program that's guaranteed to work! We customize each visit based on your property's unique needs, and schedule treatments from March to November. These visits ensure your grass has everything it needs when it needs it. This includes a nitrogen and potassium-rich fertilizer to jumpstart growth and keep your turf fed throughout the winter.
When you partner with us for lawn care in Paramus, you'll receive:
A free evaluation and estimate so there are no surprises later.
Comprehensive treatment with a six-step program tailored to your lawn's needs.
Organic options that give you great results without herbicides or pesticides.
Free service calls if you have issues between visits.
Service within 24 hours of your call, so you don't have to wait for results!
Image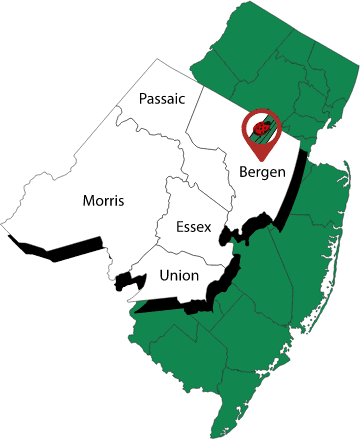 Tree and Shrub Care in Paramus
Our team specializes in providing comprehensive tree and shrub care services that are custom-tailored to meet the specific needs of your ornamentals. With years of specialized education and experience, our International Society of Arboriculture-Certified Arborists and New Jersey Licensed Tree Experts are equipped to provide you with the best care.
Our 6-step Complete Tree Care Program includes the following:
Spring dormant oil application
Spring root zone fertilization
Spring foliage protection
Early summer foliage protection
Summer foliage protection
Late-season foliage protection
Additional services are available
With so many touch points throughout the season, we get to know your trees and shrubs intimately, which helps us diagnose and remedy ailments long before they become an issue. Let us help you take care of your ornamentals so that they can provide shade, ambiance, and even a bump in the value of your home for years to come. Contact us today to learn more about our tree and shrub care services.
Flea and Tick Control in Paramus
Say goodbye to pesky fleas and ticks in your backyard with our top-notch flea and tick control service in Paramus. Our experts are here to make sure your family and pets are protected from disease-carrying pests.
Here's what you can expect from our service:
Free Inspection: Our licensed and certified technicians will thoroughly inspect your property to identify areas where fleas and ticks are likely to thrive.
Highly-effective flea and tick treatments: We use the latest techniques and products to eliminate flea and tick populations in your yard.
Ongoing flea and tick prevention: We apply a perimeter tick spray around your yard to create a barrier these pests can't cross. Plus, we return to your home five times yearly to re-spray and ensure your protection doesn't wear off.
Family and pet-friendly: Our flea and tick treatment products are safe for your loved ones. Just let it dry, and your lawn is as safe as any other day!
Please don't wait until it's too late. Contact us today for our flea and tick control in Paramus, and enjoy a pest-free backyard all season long. We guarantee your satisfaction or your money back!
The Harvest Guarantee
You deserve to work with a lawn care company that has your best interests at heart. That's exactly what you get with Harvest. Not only do we take the time to listen to your concerns and design a custom treatment plan, but we also offer a satisfaction guarantee. If you're not happy after our visit, let us know and we'll re-service for free. There's no better choice for lawn care in Paramus!