Lawn Care in Ridgewood
A well-maintained lawn raises the value of your home and looks incredible. Trust Harvest Lawn Care and make sure your landscape gets the specialized care it needs to thrive this season—and every season! Our professional lawn care technicians are fully licensed, undergo regular training, and use the best products available. You can count on great service, guaranteed.
Our lawn service program includes:
Lawn fertilization
Weed control
Grub control
Disease treatment
Lawn aeration
Overseeding
Soil testing
And more!
Year-Round Lawn Care Services
Your lawn's needs change with the seasons. To keep up with those needs, we schedule visits throughout the year. This includes using fertilizer in the spring to wake up your grass and iron to stimulate root growth in the fall. With over 30 years of experience, we've had plenty of time to perfect our approach. Sign up today and see the difference Harvest Lawn Care can make!
When you partner with us for lawn services in Ridgewood, we will:
Apply high-quality fertilizers that encourage vibrant color.
Prevent crabgrass and broadleaf weeds from germinating.
Keep destructive pests away from your lawn.
Add iron supplements to promote root growth.
Use nitrogen and potassium-rich fertilizer to prep your grass for winter.
Image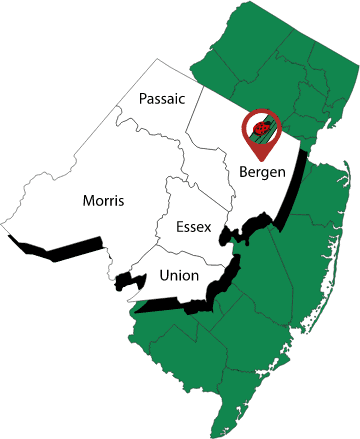 Our Six-Step Lawn Care Process
Our lawn care in Ridgewood is backed by over 30 years of experience. Our six-step process is effective and tailored to meet the needs of your grass throughout the year.
Here's what to expect from our lawn care technicians:
March - April: We begin applying fertilizer to enhance color and prevent the growth of unwanted weeds.
April - May: Fertilizer and weed control are applied to ensure that your grass has sufficient energy for the upcoming growing season.
June- July: We apply fertilizer and insect control to strengthen the grass and reduce the chance of lawn pests.
August - September: We use insecticide to protect your grass from surface-feeding insects and maintain its strength by applying fertilizer.
September - October: Fertilizer, weed control, and iron are applied to promote root growth and prepare your grass for the winter season.
October-November: Applying a fertilizer high in nitrogen and potassium during early winter promotes the growth and recovery of your lawn, allowing it to rejuvenate earlier in the spring.
Tree and Shrub Care in Ridgewood
Ornamentals can increase the value of your property, but they require the knowledge and skills of certified arborists and licensed tree experts. Our professionals can provide specialized care, fertilization, pest and disease control, winter dormancy promotion, and other services for your trees and shrubs.
Our tree and shrub care service includes the following:
Our team applies specialized fertilizers directly to the root zone of your ornamentals, providing essential nutrients for their health and vibrancy.
We offer targeted treatments to protect your ornamentals from pests and diseases, ensuring their long-term well-being.
Our 6-step tree care program is designed to meet the changing needs of your trees and shrubs throughout the year, providing them with the necessary care to thrive.
Why choose us?
Our arborists are certified by the International Society of Arboriculture, providing peace of mind for our customers.
Our team includes New Jersey licensed tree experts, ensuring exceptional expertise in the field.
We offer a 100% satisfaction guarantee on our work, backed by over 30 years of experience. If you are not satisfied, we will ensure to resolve the issue.
Flea and Tick Control in Ridgewood
Residents of Ridgewood, New Jersey have reason to be concerned about fleas and ticks in their yards. These parasitic pests can cause a variety of health issues for humans and pets alike. At Harvest Lawn Care, we are committed to providing solutions that are tailored specifically to your individual needs.
Here's what you can expect:
A free inspection from our licensed and certified technicians who will assess your property and identify areas that may be prone to flea and tick infestations.
Highly effective flea and tick treatments that eradicate flea and tick populations in your yard.
Our five-step prevention program provides ongoing protection against fleas and ticks, ensuring that you are protected throughout the season.
Treatments that are safe for both your family and pets, providing you with a worry-free yard.
Redeem Your $20 Discount on Our Guaranteed Flea & Tick Treatment
A Beautiful Lawn, Guaranteed
We prioritize our customers and strive to provide exceptional customer service. Our lawn care in Ridgewood comes with a 100% satisfaction guarantee. If you are not completely satisfied, we will return and re-treat for free. We are committed to making things right or refunding your money.