Lawn Care in Paterson
Welcome to Harvest Lawn Care, your local lawn care experts in Paterson! We understand the toll that Paterson's unique climate can take on your lawn but don't worry, we've got you covered. With over 33 of experience, our dedicated team is here to provide you with top-notch lawn care services that will leave your yard looking stunning. Here's what we offer:
Our custom, 6-step program
An organic fertilization program
Weed control
Insect control
Disease control
Tree and Shrub Care
Flea and tick control
And More!
At Harvest Lawn Care, we take pride in our commitment to customer satisfaction. That's why we offer a 100% satisfaction guarantee. We don't just deliver beautiful lawns; we build lasting relationships with our customers and the community. Experience the difference of our reliable and knowledgeable team. Call us today for a FREE consultation and let us transform your lawn into a vibrant oasis.
Image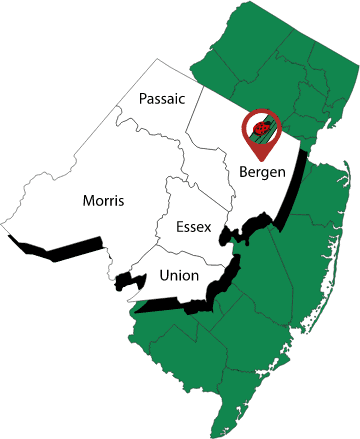 Local Lawn Care Services to Spruce Up Your Lawn
If you're looking for a way to spruce up your Paterson lawn, then hire the professionals at Harvest Lawn Care! Our experienced team specializes in providing top-notch lawn care services that will help transform your yard into a beautiful oasis. We offer a wide range of services designed to meet your individual needs. This includes: 
March-April: We feed your turf early to encourage green-up and prevent crabgrass and broadleaf weeds.
April-May: We provide extra nutrients and control weeds before they emerge.
June-July: We fortify your grass for the hot and dry weeks ahead with fertilizer and insect control.
Late summer: We protect your grass from surface-feeding insects and provide the right nutrients for summer heat.
September-October: We apply fertilizer, weed control, and iron for root development.
October-November: We set your lawn up for spring with a nitrogen and potassium-rich fertilizer to survive winter and thrive in warmer weather.
Tree and Shrub Care in Paterson
Our tree and shrub care services are designed to enhance the beauty and value of your yard. We understand that not everyone has the knowledge or experience to properly care for the various plant species in their yard, which is why our team of experts is here to help. Our tree and shrub services in Paterson includes:
Spring Dormant Oil Application
Spring Root Zone Fertilization
Spring Foliage Protection
Early Summer Foliage Protection
Summer Foliage Protection
Late-Season Foliage Protection
Our certified arborists and licensed tree experts have the specialized education and experience needed to give your ornamentals the specific care they require. From fertilizing your plants through targeted root injections to protecting them from pests and diseases, we have you covered.
Flea and Tick Control in Paterson
Are you tired of dealing with the hassle of fleas and ticks in your backyard? Don't let these tiny creatures ruin your outdoor enjoyment or put your family at risk. With our highly-effective flea and tick control service in Paterson, you can finally get rid of these pests and prevent them from coming back. Here's what we offer:
Free Inspection: Schedule a free consultation with one of our licensed and certified technicians. We'll carefully assess your property to identify areas where fleas and ticks are most likely to thrive.
Highly-Effective Treatments: Our expert team will apply a powerful flea and tick treatment around the perimeter of your entire yard, creating a barrier that these pests can't cross. We'll also blanket-treat the rest of your yard to eliminate the existing population and deter new fleas and ticks from infesting your space.
Ongoing Prevention: We don't just stop at one treatment. We'll return to your home five separate times over the season to re-spray, ensuring long-lasting protection for you, your kids, and your pets. Say goodbye to the constant worry of fleas and ticks!
Family and Pet-Friendly: We understand that the safety of your loved ones is a top priority. That's why our flea and tick control products are family and pet-friendly. After we spray, just let it dry and your lawn is as safe to play in as any other day.
Don't let fleas and ticks control your backyard. Take charge with our comprehensive flea and tick control service in Paterson. Contact us now for a free inspection and experience the peace of mind that comes with a pest-free environment.