Lawn Care in Wayne
The grass around your home benefits you in a host of ways, from keeping your yard cool, giving your family a place to play, and even reducing mental stress. But for your lawn to best benefit you and your loved ones, it needs meticulous care. Here at Harvest, detail-oriented lawn services are our bread and butter! Our goal is always to provide you with a noticeably beautiful lawn.
When you sign up with us, you will receive:
Free inspection and estimate.
Proven 6-step program that fertilizes your turf as well as protects it from weeds, disease, and insects every season.
Fully organic lawn treatments to nurture your lawn without the use of any chemicals, giving your complete peace of mind.
Free service calls allow you to have a technician check on your lawn between scheduled visits.
24-hour phone lines so you're never hung out to dry.
Additional services—such as Grub Control, Lawn Aeration, Soil Testing, and more—ensure your lawn gets whatever it most needs.
100% satisfaction guarantee: If you're not satisfied, we'll be back to make it right!
Your lawn's vibrancy is our top priority, and we'll do anything to make it shine.
Image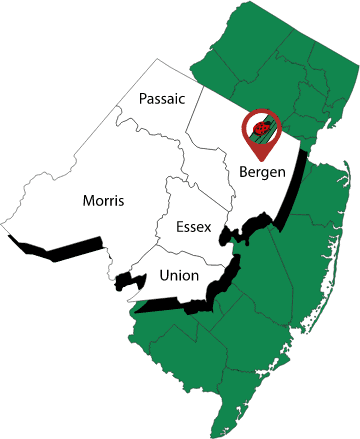 Family-Friendly Lawn Services
Family comes first, even before lawn care! We understand, which is why we only use EPA-approved products and offer our 100% organic program. A beautiful lawn shouldn't compromise the safety of your children and furry family members. With Harvest, you get both the ideal turf and a safe space for everyone.
Tree & Shrub Care in Wayne
Tree and shrub care is complicated. We've learned that much in our 30+ years of operation. That's why we only employ the highest-certified and most experienced staff in our Tree and Shrub Care Department. Our department head is an International Society of Arboriculture-Certified Arborist, and is supported by 3 New Jersey-Licensed Tree Experts. In a nutshell, when you call on Harvest for tree and shrub care in Wayne, you're calling on the best team in town.
Our tree and shrub care services include:
A free inspection and estimate before anything else.
Our 6-Step Tree Care Program with a proven track record.
Pest and insect control to minimize stress on your ornamentals.
Root zone fertilizer injections to feed your shrubs and trees key nutrients.
Catered tree care for different species and health levels.
Specialized services such as bark sprays, tree injections, and more.
Your ornamentals are worth the proactive care that will help them thrive for decades. Our expert team knows just what your trees and shrubs require—regardless of the species—to reach their full potential.
 
Flea & Tick Control in Wayne
The last thing you want to discover after playing in the yard with your kids or pets is a tick or flea on either! These parasites immediately detract from time spent outdoors and pose the risk of exposure to various diseases. Our flea and tick control drastically reduces the number of fleas and ticks in your backyard, lending you peace of mind that your loved ones are better protected.
For our flea and tick control in Wayne, we will:
Walk through your yard with you to identify areas of concern and the extent of treatment you want.
Treat the perimeter of your yard with a spray that ticks and fleas can't cross.
Blanket treat the rest of your yard to kill active parasites in the space.
Repeat treatment 5 times between spring and fall for season-long protection.
Our treatment enables you to enjoy your outdoor space worry-free. As soon as the treatment dries, your yard is safe as ever for kids and pets. If you want your yard back, give us a call!
The Harvest Guarantee
We don't believe you should pay for a service that doesn't deliver results. Our 100% Satisfaction Guarantee means that, if you're not happy with the outcome of our service, we'll re-treat at no additional cost. That's how we ensure you always get what you expect from our team!