Lawn Care in Franklin Lakes
Taking care of your own lawn can be a full-time gig, using up time, effort, and funds. When you invest so much in your lawn, it's utterly deflating when it doesn't turn out as you hoped. If you're looking to trade the hassle of lawn care for guaranteed results, Harvest is here to help. We specialize in premier lawn care through expert technicians, state-of-the-art techniques, and top-of-the-line customer service.
Our lawn care services include:
A Free Inspection and Estimate.
Fertilization.
Weed Control.
Insect Control.
Disease Control.
Aeration and Seeding.
Soil Testing and Liming.
24-Hour Phone Lines.
Our 100% Satisfaction Guarantee.
And More!
Image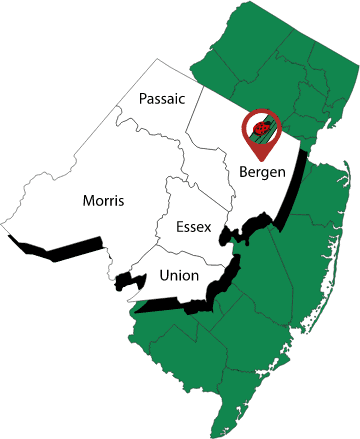 6 Steps to Excellence
In our 30+ years operating as a lawn care company, we've developed, tested, and perfected a 6-Step Lawn Care Program that nurtures your turf while protecting it from harmful stressors. The years have revealed how this program yields consistent results and satisfaction to homeowners.
Our 6-step lawn care in Franklin Lakes includes yard services in:
Early Spring: We apply a mix of fertilizer and pre-emergent weed control that helps your turf bounce back from winter weed-free.
Mid-Spring: Our second treatment further boosts spring growth while preventing weeds from germinating.
Summer: Before the high heat of summer sets in, we feed your turf fortifying nutrients and apply an insecticide to keep surface-feeding insects away.
Late Summer: This follow-up treatment allows us to check in on your lawn during the season of the highest stress, allowing us to make adjustments to ensure your turf thrives.
Fall: We get a head start on preparing your grass for winter, adding iron to stimulate root growth to our mix of fertilizer and herbicide.
Late Fall: The last treatment of the year is high in nitrogen and potassium, shoring up your lawn for the winter so it's ready to grow come spring!
Our 6-step program supplies your lawn with its every need in every season. Our expert and personable technicians will service your lawn every 4-6 weeks, tracking its progress and tweaking treatment for optimal grass health. And if you prefer a totally organic lawn care program, we offer that too! Give us a call to learn more.
 
Tree & Shrub Care in Franklin Lakes
As important as the grass growing around your home, the trees and shrubs that provide shade and artistic relief cannot go untended. Ornamentals have been shown to increase property values by as much as 10%! Like you, we recognize the values of these lovely plants and offer services to nurture, flourish, and protect your trees and shrubs.
Our tree and shrub care in Franklin Lakes includes:
A free inspection and estimate.
Our 5-step tree care program.
Root zone fertilization.
Pest control and foliage protection.
Species-specific tree and shrub care.
And far more!
Tree and shrub care is a complex science, and we don't entrust your lovely ornamentals to just anyone. An International Society of Arboriculture-Certified Arborist heads our Tree and Shrub Care Department, aided by 3 New Jersey-licensed Tree Experts. We ensure that your trees aren't just in good hands—they're in the best hands.
 
Flea & Tick Control in Franklin Lakes
Finding a tick on you—or fleas on a pet—can ruin a good day. These pests are disturbing, unsightly, dangerous, and known to carry various diseases. Our flea and tick control makes it easy for you to better protect your loved ones and your pets from these pests and the harm they can cause.
When you choose Harvest for flea and tick control in Franklin Lakes, we will:
Visit for a free consultation.
Walk through your outdoor space with you to identify the area you want to be protected.
Identify spots around your yard that ticks and fleas favor.
Create a chemical perimeter barrier around your yard to keep these pests out.
Treat the rest of your yard to knock down the population.
Return 5 times over the course of the spring, summer, and fall to keep your yard protected.
We Guarantee Quality
We stand by the work we do. That's why we back all our services with a 100% satisfaction guarantee. If you're at all dissatisfied with a service we perform, let us know and we'll return to do it again, free of charge. If you're still not happy with the results, we'll refund your money!
That's how you can rest easy knowing that our team will do right by you and your lawn.