Lawn Care in West Orange
Bare patches, brown spots, and stubborn weeds can negatively impact your curb appeal. Finding the source of the problem is difficult, and treating it is even harder. Luckily, our lawn care in West Orange is here to help! We tailor our services to your property's unique needs, giving you a noticeably beautiful lawn.
Our lawn care includes:
Fertilizer applications
Weed control
Insect control
Lawn disease treatment
Aeration and overseeding
Soil testing and pH balancing
Year-Round Treatments
Your lawn has drastically different needs in the summer than it does in the fall, which is why we tailor our approach based on the time of year. This allows us to give your grass the attention it needs and keep it healthy year-round. We guarantee you'll see results with our six-step program!
Here's what you can expect from our lawn care in West Orange:
Fertilizer applications to promote growth and make your lawn a vibrant green.
Insect control to eliminate harmful pests that can cause brown spots.
Weed control to stop crabgrass and broadleaf weeds from germinating.
Iron supplements to stimulate root growth and prepare your turf for winter.
Organic lawn care options that are herbicide and pesticide-free.
Image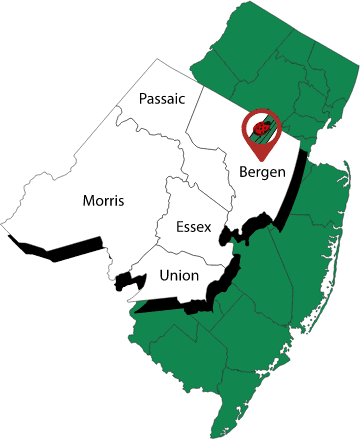 Get A Better Lawn, Guaranteed
If you're searching for a reliable lawn care company, look no further than Harvest! We back our services with a 100% satisfaction guarantee, so you'll always see the results you want. If you're not completely happy after our visit, we'll re-treat your lawn for free! In the event that we can't make things right, we'll give you your money back.
Tree and Shrub Care in West Orange
Trees, shrubs, and other ornamentals provide more than just curb appeal to your house—they can provide shade to your grass, proper ambiance, and even increase your house's value. What's more, is that they require specialized care to help them flourish and protect them from a variety of tree diseases and pests. These services require special training, and we at Harvest Lawn Care are ready to provide them.
When you partner with us for our tree and shrub service, you can expect:
A free estimate and thorough inspection

.

A comprehensive 6-step tree care program

with multiple layers of protection.

Plant regulators and bark sprays

.

Regular seasonal fertilization

.

Dormant oil applications

.

And much more

!
Trust Our Team Of Tree Experts
Your landscape will look the best it ever has when you partner with our team. Our team is headed by one of the International Society of Arboriculture-Certified Arborists and is assisted by 3 New Jersey-Licensed Tree Experts. With our specialists and 30+ years of experience under our belt, know that all your trees and shrubs are in the best hands in the area.
Flea and Tick Control in West Orange
Are you tired of dealing with pesky fleas and ticks in your yard? Look no further than Harvest Lawn Care's flea and tick control service in West Orange. Our comprehensive treatment plan includes:
Free inspection to identify problem areas
Highly-effective flea and tick treatments to get rid of current infestations
Ongoing flea and tick prevention to keep your yard protected
Family and pet-friendly products to ensure everyone stays safe
Don't let fleas and ticks ruin your outdoor fun. Trust the experts at Harvest Lawn Care for reliable and effective flea and tick control in West Orange. With our 100% satisfaction guarantee, you can feel confident in your investment. Contact us today for a free consultation.