Lawn Care Services in Clifton
From picking the right fertilizer to figuring out why your grass is turning yellow, taking care of your lawn can be hard! Luckily, you don't have to do it alone. Our lawn care technicians are dedicated to helping you and will build a custom treatment plan based on your property's needs. They'll also be by your side to address any questions or concerns, so you're always in the loop.
Year-Round Customized Care
If you've ever wondered how to keep your lawn looking great all season, the answer is year-round treatments! Our lawn care in Clifton relies on six visits, starting in March and going through November. We tailor each visit based on the season and your property's current stressors, like weeds or grubs. This gives you the best results for a noticeably beautiful lawn!
Our lawn care includes:
Fertilizer applications to encourage new growth and vibrant green color.
Pre-emergent treatments to stop weeds like crabgrass from growing.
Insect control to stop destructive pests from wreaking havoc on your grass.
Iron applications to stimulate root development.
Nitrogen and potassium-rich fertilizer applications to prep your grass for winter.
See Results with Organic Products
We're dedicated to giving you personalized lawn care, so if you prefer organic products, we've got you covered! We offer organic lawn care in Clifton that ensures your turf is extra safe for pets and kids. You'll still see great results, just without herbicides or pesticides.
Image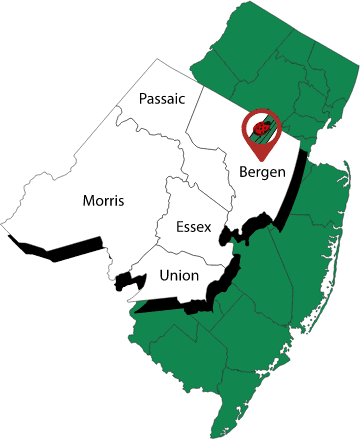 Tree and Shrub Care in Clifton
Our tree and shrub care services provide specialized care for your ornamentals, ensuring they receive the specific care each species requires. Our team of International Society of Arboriculture-Certified Arborists and New Jersey Licensed Tree Experts is equipped to fertilize your ornamentals through targeted root injections, protect your trees and shrubs from species-specific pests and diseases, and give your ornamentals a boost for winter dormancy.
Our 6-step tree and shrub care program includes the following:
Spring dormant oil application
Spring root zone fertilization
Spring foliage protection
Early summer foliage protection
Summer foliage protection
Late-season foliage protection
Additional services are available
We are here to provide the care and expertise needed to ensure that your trees and shrubs are healthy, flourishing, and increasing the value of your home. Our Complete Tree Care Program is custom-tailored to the plants growing on your lawn. Technicians will visit your property every few weeks to administer specialized treatments and track the health and growth of your plants.
Flea and Tick Control in Clifton
Are you tired of dealing with unwanted pests in your yard? Our flea and tick control service in Clifton has you covered. Our program includes the following:
Free inspection: Our licensed and certified technicians will assess your yard and identify areas where fleas and ticks will likely thrive.
Highly-effective flea and tick treatment: We use proven methods to eliminate the existing population and prevent new pests from entering your yard.
Ongoing flea and tick prevention: Our 5-step tick prevention program ensures comprehensive control throughout the entire season.
Family and pet-friendly: Our products are safe for your loved ones so that you can enjoy a pest-free yard without worry.
Say goodbye to fleas and ticks and hello to a beautiful, safe, and enjoyable yard. Contact us today to schedule your free consultation and take the first step towards a pest-free life.
Our Satisfaction Guarantee
When you partner with Harvest, you're choosing the best lawn care company in the business! Our technicians are all licensed and certified, and they undergo regular training to stay updated on the best products and practices. If that's not enough, our lawn care in Clifton also comes with a satisfaction guarantee